Site Details
Intro
The UraBukkake is a really hot cumshot porn site, where you can find sexy cumshot porn videos from Japan, but without the loathed censorship! In the hardcore cumshot sex videos of the UraBukkake, you can see everything, there isn't any censorship, just the plain, hardcore action!
You are going to love this site, and while you are its member, you will have some really good time, watching HD cumshot porn videos!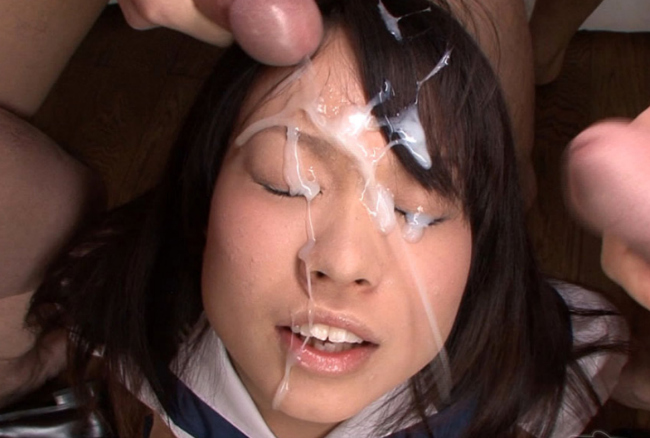 Design & Layout
The UraBukkake has some nasty, original, and exclusive bukkake videos for you. These videos are coming from Asia, and they feature those cute, innocent Japanese girls you love to watch. There are only "ura" videos, which means these are not censored scenes. And that's one hell of a feature! Every flick covers some nasty action, and they keep on adding new ones each week. So far, we are satisfied, as we have a site with uncensored bukkake porn, which are exclusive, and the collection is regularly updated. With a basic membership, you can only stream the videos.
However, these aren't just some poor low-res scenes! The Flash player the site provides you with offers high-definition playback, reaching up to 1080p. The site has a simple design, and doesn't offer too many browsing tools. When you log in, you will see the latest scenes listed, with their description, and with an HD label on those which are available in high quality. Since the collection isn't that large, you won't find the lack of sorting or filtering tools too troublesome. There are also photos: they are usually high-quality stills with all the great action covered. It also looks like the photos are added more frequently (about weekly), while videos arrive with up to two weeks' hiatus between them.
The UraBukkake, apart from its obvious faults, is a strong bukkake site. There are hardly any sites with bukkake porn, especially from Japan, which offers uncensored videos. It's a major plus, and the content of the videos is quite good too. We know most of you don't really like the streaming-only site. For you, we would recommend the UraBukkake Plus: after being a member for three months, you gain unlimited downloads. By the way, the site may not look like it, but it's actually operational: they keep on posting in the blog, and they add actual, fresh videos to the collection. We strongly recommend this exclusive hardcore site: with its new design it works better, and seems to be working fine on mobiles.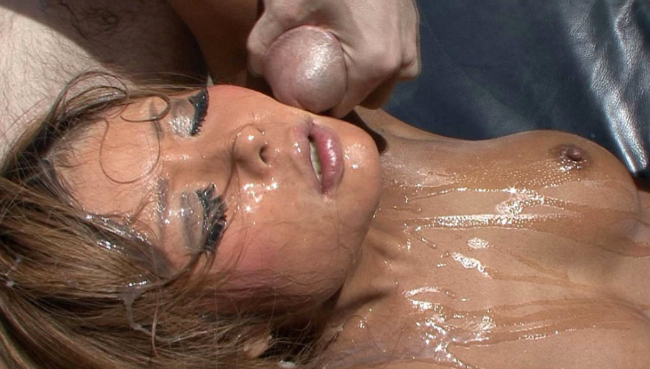 Models & Vids
There are sexy Japanese porn stars in these scenes. They put on a great performance, and while you are looking at the sexy and crazy things they do, you will wish that you were among those guys who have the chance to touch and unload onto these girls. Since bukkake originates from Japan, they seem to have a natural way of doing it: while the Western bukkake is usually just gangbang with the guys unloading on the girls face, the Japanese bukkake doesn't necessarily involve the girl doing anything.
We have seen some really prime hotties in these videos, and we believe that you will love them too. Especially because they are all natural, cute, and quite eager to have a load of cum on their face, body and in their mouth. There are just Japanese in these videos, but that's not a problem; after all, we're here for the real bukkake stuff. Basically, two types of women are featured: those cute girls who have that innocent look, and those crazy Japanese MILFs we all hope our wives would turn into! They are all professionals, and they really know how to take those big loads.
So, what is bukkake? We think you know that well. Otherwise, you wouldn't be here. However, the videos of the UraBukkake are quite varied: there are actual bukkake videos with facial shots, there are scenes with the girls end up with a cum-covered boy, and there are swallowing videos. Well, you have to decide which one you prefer. The normal, stereotype-friendly bukkake videos are really neat, and it's quite sure that you will enjoy watching them. If you love to watch as girls just kneel there and have a cum-shower, then the bukkake videos of the UraBukkake will satisfy your needs pretty much.
In order to make you satisfied, the people behind the site shot some swallowing fetish videos too. This way, you can have a great time watching as hot girls please man after man, and gather the guys' cum in their mouth. Then, when they have had enough, they swallow it all at once. Well, it's pretty kinky, so don't worry about kinkiness. To enhance the overall experience, there are lots of scenes in which the girls get the cum on their body, and then they massage it on their skin. That would be the secret of the Japanese MILFs? There are some scenes in which the girls suck the cocks, but apart from them, they really keep the bukkake: no penetration, only ejaculations and then some cum-playing to make it more interesting.
Long Story Short
We certainly hope you got the idea, and that you'll agree with us that the UraBukkake offers you great cumshot porn, with facials and body shots mixed together. Even if the collection isn't huge, the videos are quite long, so it would take a while to watch everything from the beginning to their end. When you open up these videos, you might like to shake your shaker, and it would be a good choice, because these crazy Japanese porn videos are very hot. Kinky-fans and Japanese-lovers should become a member of the UraBukkake, as it offers quite amazing, sexy hardcore porn collection.
UraBukkake is no longer updated, but if you like bukkake porn we suggest you try JapaneseBukkakeOrgy
Redeem your discount!
$38.99
instead of
$88.99

Back to the