Site Details
Intro
If you are a constraint-freak and you love domination and other BDSM videos, then here we provide you with one more excellent option for your daily viewing list. BDSM viewers have one thing in common, they all want to see a new girl bound and mauled over by the dominant and perform awesome tricks on them to give them multiple and intense orgasms. SexySettings is one website that performs some mean acts of strangulating the models' hands and legs and then intense erotic acts are performed on them. The website's aim is to provide quality scenes with new and original products. To fulfill this requirement, they hire those amateur models that have never performed in the constraining scenes. It is their first time being tied, gagged, wildly touched and fucked savagely. It is not as exciting when a pornstar is made to perform in these videos than as it is when an amateur is made to perform in these videos for the first time. It is well said in the porn industry that newer the face, better is the base (money). It is because when you get to watch a new girl being destroyed every time in these videos, the excitement level increases manifolds. Every new girl brings some fresh air in the scene and the BDSM is a genre where the air goes stale very rapidly. The website caters well to the requirements of such viewers who want quality BDSM with real hardcore and rough fucking where the submissive is brought to the hilt and made to orgasm uninterruptedly and tremble with pleasure. The girls, clothed, semi-clothed or fully naked are tied to the bed posts, or sometimes to the hanging ropes or to the tables and are mauled vigorously until they reach the climax. These scenes are so intense that once you get acquainted with this website, you will start growing less acquainted to rest of the things of your life. You will always be glued to Sexy Settings for the want of some more action everytime you open the website. Once you become a member of this website, you get access to whole set of similar websites like houseoftabboo, sadisticrope, czechcasting, kenmarcus, restrainedelegance, bdsmtokyo, tiedvirgins, asiamoviepass, asianropes, hardtied, and many more.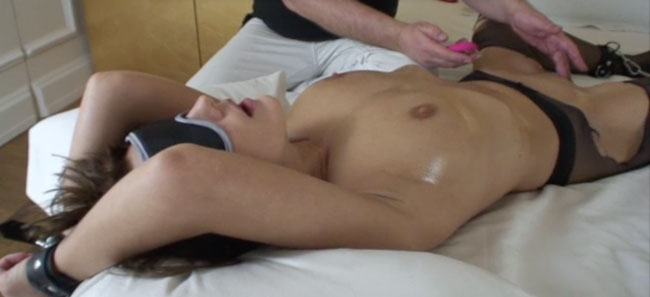 Design & Layout
The website has a name Claude's SexySettings with a tagline naked and tied up females in domestic settings. An image of a sexy chicks on the bed, half naked and hands tied up to the bedpost follows. What follows next is the enter tab with a disclaimer. Below it you will find the partner websites and a bit of their description. Once you press the enter button, a new webpage opens with some of its sample videos and other categories. Three very sexy sample videos are up for a grab which mentions all private, all personal and horny girls tied respectively. It further asks you to click on any one of those to enter the website. They also have mentioned that inside the website you will find constraint virgins tied and used. Sexy Settings has won the prestigious original pixels award for the original content posted on the website. This shows the website's seriousness and strife to display the actual, fresh, original and intimate content for its members. The website also lists the names of agencies that reviewed them with good remarks. Some of these agencies are porn inspector, review porn, the best porn, free ones, find all porn and review rabbits websites.
Models & Vids
All the girls on the website are genuinely tied for the first time on camera and the website tries its best to find out the best of the amateurs and makes them perform some of the most intimate and rough scenes. These girls are made to squirt multiple times and the number of counts for their wild orgasms is literally more than the number of videos in which they have performed. All the girls in the video are chicky women with cute and skimpy body and boobs to die for. Some of them have hairy pussies whereas most of them have shaved clits for better access to the private parts. The girls in the video are mostly submissive and follow what their dominant partner directs them to do without any negation. Sexy Settings is a storehouse of a hell lot number of videos of the BDSM and rough categories and you can access all of them instantly by becoming a member. All the videos are in high definition so you can enjoy them without blurring of the images and with more intimacy and clarity. BDSM is the main concern for this website and the website adds flavors to it by casting amateur girls who for the very first time have agreed to pose in this genre of porn. These girls have tread into this unknown territory of sexuality and they really don't know that it would make them submissive for the rest of their lives. Once you go submissive, you are plundered in every way possible by your dominant and this is what this website focuses mainly on.
Long Story Short
In my opinion, SexySettings is a storehouse of real amazing BDSM porn and those addicted to this genre would find themselves hooked once they join this website. It is really a place where all your fantasies become real and you get to see slitch, dominance, rough sex and a lot more of intimacy. If you like manhandling girls and doing harsh things to them during the act of sex and fucking them wildly, then yes, this website is for you and you should at least give it a try for one month. Let me guarantee you beforehand that once you subscribe this website, there is no looking back.

Back to the
or check some more about Sexy Settings on other good review sites!