Site Details
Intro
We all like to watch different types of porn. If we didn't the porn industry would be extremely boring, like a long drive to your least favourite aunt's house. Luckily, human being have such different tastes, preferences and kinky fetishes that the porn industry seems to have content for everyone, no matter what your desires are. Most people are happy with a simple free site that offers standard content at varying levels of quality. Many of the videos on free sites are either not original or they are of such poor quality it is near impossible to get a hardon. For those who prefer premium content at a high quality, then paysites and membership is the only solution.
So for those who like premium content, where does one go to see sexy ladies with hard nipples, shapely asses, beautiful faces and a nice set of cock'n balls sucking and fucking their way through thick-cocked studs? Simple. DreamTranny. For non-members, the site offers very little except teasing thumbnails that are guaranteed to turn your balls blue. Membership grants users unlimited streaming and download access to all of the sites videos and photo all for a very reasonable cost. All the videos are in HD, either 720p of full 1080p, and are available for download. The site is regularly updated with fresh and new videos ensuring that members always have something exciting to look forward to. In addition, members also gain exclusive updates on other pay porn sites that they may already be members of.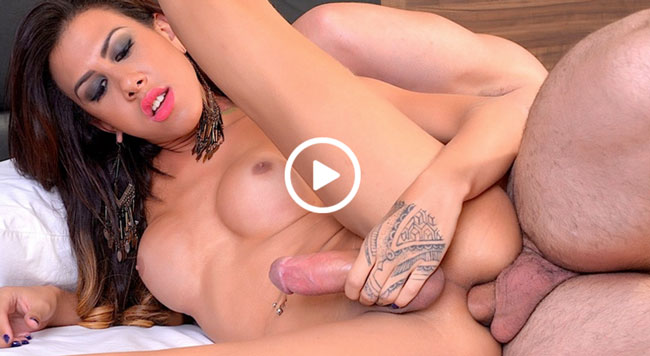 Design & Layout
The design of a website is often the deciding factor in preventing visitors from returning to the site and fortunately, DreamTranny keeps things simple to ensure that visitors keep 'cumming' back for more and more. The website maintains a very clean and intuitive design and allows members to navigate through the Home, Models, Updates, Video Archive and Photo Archive tabs. In addition, there is a search bar allowing users to search for videos using keywords or the name of their desired pornstar. For members, all the content on the site is available for streaming and download. The videos are streamed in an embedded player that has very reliable and fast streaming speed.
The downloaded videos are available in the convenient MP4 video format which is supported by nearly all applications and devices. This means that no matter where you are, you can have your favourite videos at your fingertips. Each scene also has a collection of photos (usually around 200). These photo galleries can be downloaded in a compressed zip file, allowing members even greater access to their favourite scenes and pornstars. The content on the site is very niche. Not many sites offer tranny videos, and more importantly, not many offer such a high level of quality in their content. The tranny niche features a transgender woman with cocks who either fuck, get fucked or do both. The major selling point for DreamTranny is the fact that there is such a wide variety in its original content, allowing users to always find something to suit their tastes.

Models & Vids
Big tits, tattoos, big cocks, tight asses, hard nipples, these are just a few of the words to describe the models on this site. If variety is your thing, DreamTranny is definitely the site for you. Do you like Brazilian shemales with tattoos, a sexy face and a massive cock? The Fernanda Cristine might be the perfect model for you as you watch her pound hot studs in their minuscule assholes. Or maybe you prefer your model blonde, with nice minuscule perky tits and an ass that doesn't quit? The Rafaela Sanchez is better suited to you. Whatever your desires and preferences are there is a DreamTranny girl for you. Despite all their differences, there is a major thing all the girls share in common: they are all drop dead gorgeous, they love to fuck and get fucked and they don't quit until every last drop of cum has been licked or dripped upon.
One very easy way to describe the video is 'No holes barred' because these trannies like to fuck, suck, get fucked and get sucked in an equal measure. Every orifice in open for business in these extremely sexy hardcore videos. Whether the videos are 1-on-1, threesomes, or full-fledged cock bonanza gangbangs, rest assured that there will always be a scene to get your pants a little tight. The content is so diverse that there are even solo scenes that involve different vegetables such as cucumbers. Double anal, double blowjobs and creampies are what you should expect from most videos, all of course in glorious bareback. The website unfortunately does not boast the largest collection of videos (the collection falls just short of the 200 mark), however, the quality of these videos goes a long way in making up for the lack of quantity. In addition, the sheer variety and the periodic updates, as mentioned above, guarantees that members will never get bored of the site.
Long Story Short
Everyone watches porn for different reasons. Some watch porn for the sole purpose of a quick release. Some use porn as a form of fantasy, to escape normal life in the hardcore scenes available all over the web. For others, they have unique tastes that are often rare to find on a day to day basis, and it is for this last group that DreamTranny is ideal for. If you like trannies fucking and being fucked; if you like watching stunning ladies with perfect bodies and hanging balls; if you like variety in the models you see on a site, as well as in the videos, then DreamTranny is for you. Compared to some other sites, membership comes at a very affordable price, meaning that you can satisfy your desires without hurting your wallet. For all the tranny lovers out there, DreamTranny is definitely the site to make all your dreams come true.

Back to the
or check some more about Dream Tranny on other good review sites!