Site Details
Intro
The amazing 10ManCumSlam is one of the best cumshots porn sites out there. In case you become a member of it, you will gain unlimited, unrestricted access to its collection.
These cumshots porn videos are really hot, and they will get you in the mood for shot one out of your groins too. Our cumshot porn site review features all the information you have to know about this site.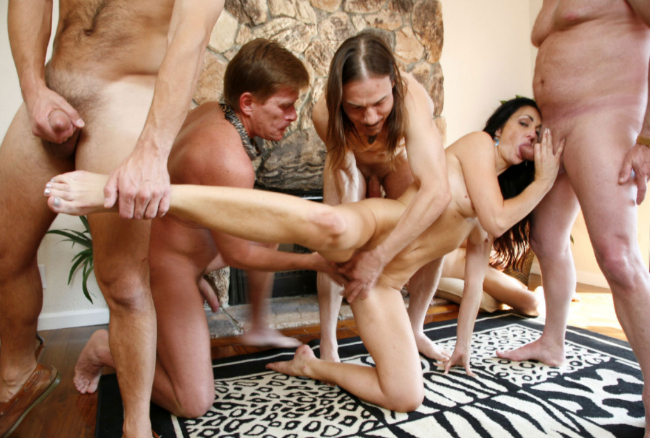 Design & Layout
Well, the 10ManCumSlam is probably among the most heartily recommended cum-fetish porn sites. This source for kinky and hardcore adult videos covers a few hot niches, including gangbang sessions (partially interracial), heavy bukkake scenarios, along with some naughty deepthroat sucking with double penetration and so on. From the name of the site, you know the base size of the groups in the videos. Japanese bukkake is still the original, and for many viewers, the hardcore Japanese porn is the alpha and the omega. However, if you are not into censored porn, or you are not all that crazy about Japanese girls, then the 'Western' porn of the 10ManCumSlam will surely satisfy your needs! This site has slightly more mainstream porn than what the Japanese make, but you are going to love these hardcore orgies. As for the looks of the site, it has an easy-to-use, simple build, with the most basic necessary tools to find the porn you would like to watch.
On the 10ManCumSlam, you gain access to a fully exclusive porn collection. The site isn't as big as you might expect knowing that it has been around since 2003. However, it's fully understandable: first, these are in-house productions; and second, not every porn star dares to take on 10 or more guys, who don't just fuck them, but also cum in their mouth or on their face. So, for us, it's totally understandable why there are that much videos as there are. But, these over 150 scenes of the 10ManCumSlam are yours to watch and download if you are become a member. The videos are not to be found anywhere else, so it's recommended to join if you seek real, exclusive western bukkake. You can watch the videos after, or without downloading. The quality is average, but the streamed and saved versions are slightly different. In the members' area, you can watch the scenes in flash video format, the player loads fast, and it plays the videos quite well.
To save the scenes, there are Windows video files offered, and depending on their age, they are slightly different from each other in terms of bitrate. There seems to be a download maximum set up at 3Gb per day. Since the site has a load of bonuses, you won't be bored if you hit this maximum, so we wouldn't consider it as a negative feature. You gain access to photos too, which will be a bit better in quality, as most of them are real photos. The galleries are downloadable in packages, each gallery is obtainable in zipped format. The naughtiness won't end at this collection, as your membership grants you full access to the sites and videos of the so-called KickAssPass. There are more than a dozen niche-heavy porn sites included with your account. Their names are quite descriptive: BlackJelly (interracial cumshots), OrganicShemales (trannies), UltraCuckolds (the ever-popular cuckold theme, with a twist) … and so on. If you join the 10ManCumSlam and the KickAssPass via it, boredom will be chased away for good!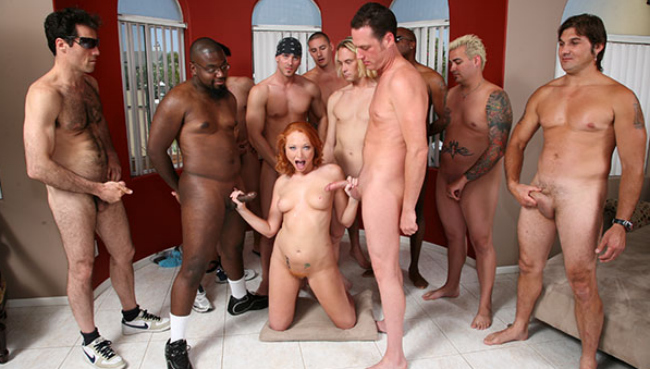 Models & Vids
The bukkake, and gangbangs in general are considered heavy niches. In most cases, videos of these niches (except for the Japanese) feature porn stars who don't have that kind of looks a mainstream porn studio would require. Well, the girl in these videos could get those juicy contracts too, but they also capable of doing heavy hardcore porn! In most cases, they are natural semi-professionals, and hot pros who you may not know, as they mostly do heavier, naughtier porn videos. These attention, and fame-seeking beauties would do everything to get exposure, and though this niche is kinky, it may just bring them fame in a closed circle of people who really love this kind of porn. Among these girls, variety is a great feature: there are gingers, brunettes, blondes, along with different ethnic backgrounds. The girls range from cuties to MILFs, and they all take on at least 10 guys.
These porn videos are truly amazing. Though they are professionally done, these gangbang sessions are wild, and crazy. In case you love to watch girls degraded to be just eager tools for horny guys, then you must view these scenes. There aren't any storylines, the girls just came to have a lot of sex, and a lot of cum. In most videos, sucking and pussy fucking are the main ways the girls please their partners, however, some bit harder actions might also take place. Since there are usually minimum 10 guys in the action, the videos are quite long.
Long Story Short
This site, the 10ManCumSlam is one of the naughtiest hardcore pay porn websites, which grants you access to hot and crazy niche videos: bukkake and swallowing are the main niches, and there is also gangbang and cumshots-fetish covered. The 10ManCumSlam is really one of the nastiest and best bukkake porn collections. One of its main features is the girls' origin: they are not German, so the porn here is a bit more mainstream, yet just as kinky and fascinating like on those famous German goo porn sites! The membership grants you access to a large network, and there are some new flicks dropped on this site every now and then, so more gangbang videos could be expected!

Back to the