Site Details
Intro
Have you ever been to a swinger party? If the answer is yes, then you probably already have an idea what sort of activity is going on inside. If you like this sort of fun and have a thing for fun-loving, sex-starved mature women, then jump into the wild and wet party at TrishasFriends! These are real, everyday type of people who are experiencing true bliss in the act of hardcore sex – and with their closest pals, too! The site boasts a great deal of juicy content that focuses not just on girl-to-guy action, but also on girl-to-girl banging. It's not all too common to see a bunch of older women setting their wild and horny selves free, so TrishasFriends is a great find for MILF porn lovers! The videos and photos vary in quality, and you have the option to either view them online or download them for offline viewing. TrishasFriends also gives you the opportunity to be up close and personal with your favorite chick, through phone and text chat, as well as through a special chat room called Studio 66 Live where you can chat with the featured model and even ask her to do some naughty stuff for your personal entertainment. And if that's not enough, you'll also be treated to a couple of bonus sites featuring more of Trisha's wild antics: AuntieTrisha and HotMatureTrisha. Pretty cool, right?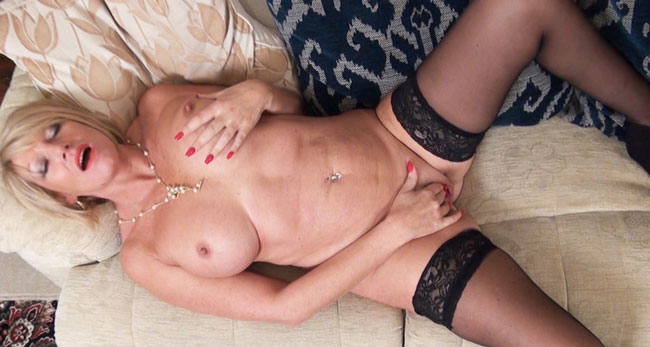 Design & Layout
TrishasFriends is a haven for fans of MILF porn. It's filled with horny, mature women who have no qualms stripping nude and doing all sorts of raunchy, arousing things in front of the camera. For these old chicks, age is merely a number and a raging sex drive is everything! The site has a nice and simple layout that makes navigation easy. It sports a white, yellow, and red color scheme that's both visually appealing and reflects the sunny personalities of the girls. There are navigation panels displayed on top of the homepage, allowing you to access other parts of the site with just a single click. From the moment you enter the site, you'll immediately find a large slideshow featuring some of their hottest ladies flaunting their stuff in seductive outfits. If you want to learn more about a particular model, you can check out the "Girls" section from the menu to find a long list of the women wearing little to no clothes. These chicks enjoy seeing dicks getting erect at the sight of their naked bodies, even more so when they get dirty with others. From the "Girls" section, each model comes with her own little section where you can find more info about her, as well as her portfolio of videos and photos. One annoying thing about the "Girls" section, or any other part of the site for that matter, is that you are somehow made to browse through hundreds of content. You can only go back or forward, one page at a time, so it might take some time to click through everything until you find the one that appeals to you the most. Things would've been much better if you could just jump to any page you wanted, right? It would also be nice if you could keep track of the scenes you've watched, as well as your list of favorites. Lucky for you, TrishasFriends recently decided to add a handy search engine that lets you check out all the videos and photos the site has.
Models & Vids
You're more likely to have more than a couple of favorites here at TrishasFriends, especially when all of the girls are just as hot as the content. The site gives you a VIP pass to see old chicks whose libido seem to have only fired up with age. They love to strip naked, masturbate, go down on both men and women, suck cocks and cunts, and love to get fucked in the ass or pussy with one or more fuck buddies. These alone will give you an idea what the scenes are all about before you even press Play! It's not just your usual sucking and fucking here at TrishasFriends. The real fappening is right here, with plenty of wild and wacky themes that are brought to life by women who are not afraid to try out new things for the sake of pleasuring themselves and their viewers. There are solo scenes and sex toys, threesomes and gang bangs, and even a sprinkle of lesbian sex and fetish on the side! Most of the women you'll see here are on the plumper, bustier side, but that's how you like them, right? There's Trisha, of course, and Busty Kim, Chelsea, Gilly, Jenny, and many more. A few sexy chicks who are on their 20s also join in on the XXX fun from time to time. There's the likes of Nidean, Alexandra, and Mia who seem to enjoy the company of their buxom seniors in hardcore action. At TrishasFriends, you can choose to download the movies in MP4 video format. The quality of the flicks varies, though you won't have trouble finding HD videos since most of them are, in fact, in HD. If you're cool with just watching your favorite flicks online, you can do so and stream them in the embedded Flash player, as well. As for the photo sets, most of them look as hot as the videos, but their collection of digital stills aren't as big as the videos. In fact, they haven't received any sort of update for several months now. They also vary in quality and share modest resolutions up to 900x600px or higher. There's an average of 100 photos in each set, though some of them contain more or less. There's plenty of raunchiness in these stills that only comes with experience and age so they're all worth viewing online or downloading in ZIP files.
Long Story Short
If you're out looking for a porn site that caters to horny mature women, then look no more than TrishasFriends and all the raunchiness it can offer. Yes, there may be areas that require improvement but it has pretty decent amount of content and high-quality porn goodness that won't have you looking elsewhere for a considerably long time. The women may be past their prime and are on the plumper side, but this doesn't mean they won't give you a fucking good time. In fact, the opposite is true for these old chicks, because they're very talented in bed and know how to give guys and gals mind-blowing orgasms. There's plenty of softcore teasing and hardcore banging so whatever your preference, TrishasFriends will give you more than enough reason to sign up for an account with them.

Back to the