Site Details
Intro
This is amazing viewing and is one of the reasons why the porn industry is as popular as it is. However, for all the amateur lovers out there, big budget porn can be a bit over the top. They prefer to see the kind of girl who you would bump into on your way to the grocery store, or the kind of girl who used to sit behind you in class and you fantasised about every day. For the most part, the girls you meet on a day to day basis are normal. A night out in the club will probably end up with a dance, a kiss, a number and maybe if you're lucky then you can take the girl back home. That is not the case with the wild girls on Realgirlsgonebad. These girls lick, suck and fuck their nights away in the best way possible and leave you praying that your next night out is even half as good. There's something incredibly sexy and exciting about watching a completely regular girl getting fucked in from of a whole room of people, especially when most of the other people are fucking too. By becoming a member, you gain access to all of the videos and galleries on the site. All the content is exclusive to the site, making the low cost very good value for money. There are three membership options, allowing users to either opt for a 3-day trial or a one, three or six-month subscription depending on their needs.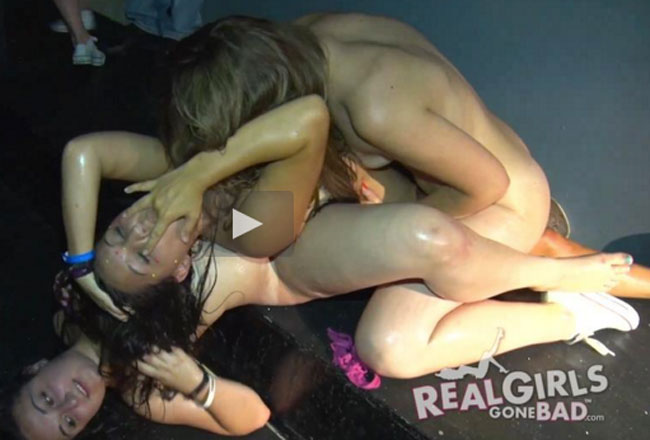 Design & Layout
The website has a simple and clean interface that is easy to get used to and navigate. The site features way more girls than guys, so it seems fitting that the colour palette features a lot of pink. Non-members are able to browse through thumbnails of the various videos on the site and are even able to watch trailers of the scenes, which allows you to whet your appetite just enough to leave you begging for more. Access to the full scenes and full galleries requires membership. All the videos on Realgirlsgonebad are 100% exclusive and original content so you won't expect to see these videos on any other site. The videos are all high quality and many of them are in high definition. Each video has content tags making it very easy to search for specific scenes using keywords, meaning that you won't have to spend hours searching for a video that might tickle your fancy. The site also offers very fast and reliable streaming ensuring that you won't have to get frustrated by buffering during your late night alone time sessions. The pictures in the gallery can also be downloaded and kept for future use.
Models & Vids
There are literally thousands of girls on this site. A vast majority of the scenes have five or more girls flaunting their bouncing boobs and jiggling asses across a series of different scenarios. Since there are so many girls on the site, there is a large amount of diversity in the girls on offer. There are big breasted, blonde bombshells; pretty, stripling and perky princesses and even full bodied, hefty heroines. Whatever you're your tastes are, you are sure to find something to satisfy your desires. The girls do everything, including solo acts, girl on girl orgies, blowjobs and large group sex scenes. This is a great thing to view as you are never too sure what to expect from the scenes. Realgirlsgonebad currently has over 250 videos on the site meaning that there is a lot of night club action to keep your cock rock hard. The videos are updated on a very regular basis (about every 3 to for days), so there will always be something new to fuel your fantasies. For those who are big on social media, the Realgirlsgonebad also has a well maintained Twitter page that keeps loyal fans in the loop with all the recent updates on the site. The videos are all of high quality and some of them (especially the new ones) are available in full HD. A typical scene involves a group of hot and wild girls in a bar or club losing all inhibitions. The girls drink and party, then proceed to turn a normal night of drinking into a sex-filled rollercoaster. The video is divided into different collections and named accordingly. Some of the more popular collections include: Wet t-shirt competition, Boat party and Bar Crawl Frolics. Wet T-Shirt Competition, as the name suggests, sees a group of sexy girls in white shirts having water sprayed onto their perfect breasts, exposing their hard nipples. The girls then get fully naked and begin fucking each other on the stage, much to the delight of the other party goers.
Long Story Short
Amateur porn offers something very different to what is seen in professional videos. The girls don't have as much makeup, the boobs are usually natural and there is no script to follow or director to listen to. The authenticity of the amateur scenes on Realgirlsgonebad will definitely get your cock throbbing as the scenes are so real they nearly come to life. If you are the type of person who prefers the 'Girl Next Door' to the Playboy centrefold then Realgirlsgonebad is the site for you. The models girls are sexy, the content is high quality and unique and there are so many different types of scenes to choose from, and it is hard to get bored. The low membership cost is also a great reason to sign up and bring the party straight to your computer screen. Maybe if luck is on your side you will see a girl you know that have always dreamed of fucking. Just cross your fingers that you don't see someone you might be related to!!!

Back to the
or check some more about Real Girls Gone Bad on other good review sites!