Site Details
Intro
The PremiumBukkake is a fresh, and long-waited cumshot porn site. On this portal, you can watch the hottest European girls doing bukkake and gokkun action.
If you don't know these two words then it's high time to learn what they mean! The PremiumBukkake is a perfect place to get the idea, and the HD cumshot porn videos will certainly make you happy! Peek inside with our guidance!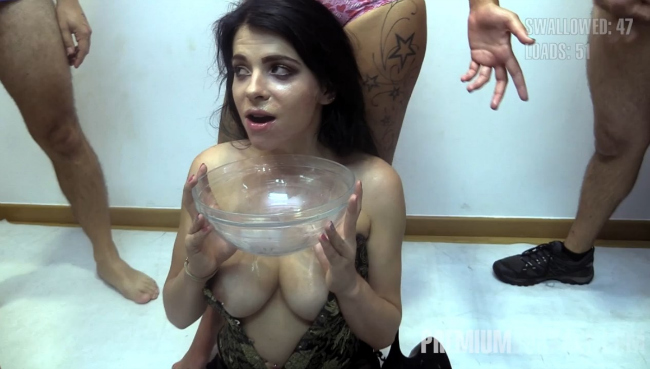 Design & Layout
Well, what you are going to read in this review is a kind of a premier: it looks like we are the first porn reviewers who review the PremiumBukkake. Although this site has been around for only year, it has a pretty good collection, and its videos are in really good shape. The exclusive videos of PremiumBukkake were shot in 2015-2016, and due different reasons, they are released only now. As far as we were able to dig up the info, there are about 50-60 scenes, and from the launch, the site kept a weekly update schedule: one scene every Friday. At this time, our connections say that Torbe, after dealing with some of his problems, will resume doing videos for the PremiumBukkake, however the site won't run out of content soon.
The PremiumBukkake has a nice design, which is going to help you find the hottest videos. A models' index gathers the girls of the site, and it also indicates the number of cum they swallowed. You can find the girls' videos on their profile. The videos are in HD: you can enjoy watching 720p and 1080p videos too. We are glad the site has a good look, and it's also really easy to switch to the mobile version: with a move, you can set up the site so you could watch these crazy scenes on your smartphone or tablet. Streaming and downloading are possible.
Models & Vids
In these videos, you can see some truly hot girls from Europe doing nasty gokkun action. While bukkake refers to the facial cumshots on a girl's face, the moment you land on the site, you will realize that there is more to it. Each girl has two-three videos, and while one features facial (well the guys miss the mouth accidentally, sometimes on purpose) cumshots and the girls also get a lot to swallow. But who are these girls? Well, they are porn stars from different European countries, who often didn't have a full idea about what was going to happen. However, when they get to the swallowing part, they do it right, and swallow as much as they can.
Every video features some body-showing action. The women stand and show their body to the camera. Then, they either get naked, or they just kneel and start to get the loads. We have to tell you, the videos which don't feature naked models are much more exciting, and the fact that their nice underwear is covered with cum makes such videos even better. There are girls from Ukraine, Spain, Czech, Hungary, and from several countries, who visited these locations just to get their belly full of cum… from the inside. There are MILF-type models and cuties too, but they have one thing in common: all of them are professionals, and they are doing this with the highest possible professionalism. Even if they don't really like eating sperm.
The scenes of the PremiumBukkake are professionally shot. You will find here three versions of the same action: there are videos from camera one, camera two, and there are the best of clips too. If you would like to watch something else, the behind-the-scenes videos with the interviews are quite good too. So, the videos have some beauty-shows, then the girls get to have those facials. The guys are not shown, you will only see their cocks. It looks like there is another woman in the room, who holds the girls' head while they take in the loads (the lady with the red fingernails).
These scenes are created by Torbe Libertad, a Spanish porn actor, director and producer. He is a nasty piece of man, and nothing shows it better than these juicy and heavy cum-fetish videos. As you will see, there are large groups of men, and the girls are made to swallow almost everything the guys unload. Some of the dudes miss the mouth, but they can unload into a bowl… after the girl takes the mouth-shot, she usually has to swallow what's in the bowl or glass. The flicks are not exactly short, and though 95% of the playtime is cum spraying and swallowing, they are really satisfying. Especially because the quality is superb, and watching the same session from a different camera's angle isn't boring at all. Please, keep in mind that it is European porn, so it's kinky, the cocks are mostly uncut. But, as you will see, this site really over-shines the not-so-great US, and the usually censored Japanese porn!
Long Story Short
Well, the PremiumBukkake is a prime choice if you have been scouring the web for European bukkake and gokkun porn. This collection was expected for a long time, and when the site finally launched, the fans of Torbe Libertad were quite happy about it. Even if you don't know who Torbe is, you will find these videos heavy and nasty enough to fulfill all your kinky fantasies. There are exclusive videos and some pretty crazy pictures here, so every click will take you somewhere hot! The PremiumBukkake is a standalone porn site, but its content simply beats all the censored Japanese bukkake and the fake porn from the States. If you like Euro girls, cumshots and swallowing, you have to give a shot to this portal.
This site doesn't accept new members, have a look at our best bukkake porn sites collection.