Site Details
Intro
They're hot, they're inexperienced, but they sure love to fuck! That's the premise here at JuicyGirlfriends, and the chicks you'll find here just want to let everyone know they're here for the pleasure and would fuck their boyfriends in front of the camera. The site contains heaps of amateur porn videos featuring your everyday-type of girl getting down and dirty with their fuck buddies. There are hundreds of videos and photo sets to enjoy, most of which are in glorious high definition. There's plenty of hardcore action going on here, with a number of softcore and lesbian sex on the side, too. And for those who love kinks like foot fetish and lactating women, JuicyGirlfriends has you covered, too! This is your newest hangout for real and raw homemade amateur porn, stripping the proverbial everyday beauty of all her innocence – and her clothes, too! Signing up with JuicyGirlfriends won't have you digging deep into your pockets. It provides members with up to 3 new juicy content every week, so you know you'll never run out of videos and photos to enjoy and collect. Sadly, there are no bonus sites, though I think JuicyGirlfriends is enough to satiate your carnal desires.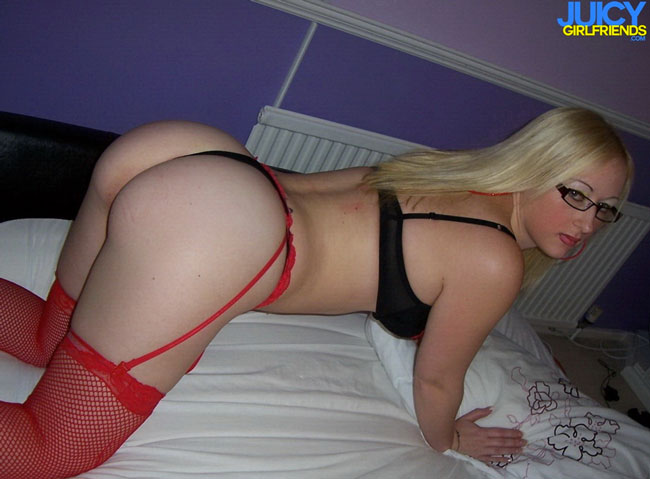 Design & Layout
You see these types of girls every day, but don't you think you're not seeing enough of them? I mean, haven't it crossed your mind just what these girls look without clothes on and what sort of stuff they do in private? Everybody wants a piece of the action, which is why I thank sites like JuicyGirlfriends for making our dreams come true! JuicyGirlfriends is simple and easy to use, with a nice bit of flashiness to it from the moment you enter the site. You'll immediately be welcomed by a nice animation filled with chicks doing all sorts of nasty. Scroll down and you'll find a plethora of thumbnails showing some of the girls in action. Each of these thumbnails comes with a short tagged caption that gives you an idea what you'll watch before you even click and play. Clicking on this caption will direct you to the full-length video and the photo set. From there, you'll find a comment and rating system, which is a nice touch. JuicyGirlfriends has a nice approach towards amateur porn, and being a fan myself, I truly appreciate this. It's not just about the usual next-door chick exposing her tits and pussy. This site throws in some attitude, for fuck's sake! There are lots of content to keep your cock satisfied, and you have the option to download or stream them. You're also given the option to save your favorite videos and photos into your Favorites so you can enjoy it at any given time. For those who are looking for something more specific, the site comes with a handy search tool and a convenient toolbar that you can use to make the search a lot easier and simpler. You can type in a specific keyword or model name from here. Each content is properly tagged and categorized, with over 60 different categories, including masturbation, creampie, lesbian, threesome, and more. Unfortunately, there's no models page, which is a bit of a letdown for those who want to know more about their favorite chicks. This isn't a big deal for me, though, but those who want to easily find their favorite models and their portfolio of videos and photos would want JuicyGirlfriends to add such a feature, which looks to be an industry-standard these days.
Models & Vids
JuicyGirlfriends has been around since 2012, so expect a huge repository of videos and photos featuring some of the horniest first-timers you'll ever know. They may be fairly new, but their offering is quite impressive. While some sites focus on just one niche, JuicyGirlfriends offers a whole slew of hardcore and softcore porn goodness, from masturbation down to kinky fetish sex. They aim to cover it all, as long as there's a hot amateur to ogle on. There are sex tapes, leaked videos and photos, and content submitted by the horny sluts themselves (or probably by their naughty boyfriends) – you're really spoiled for choice here at JuicyGirlfriends! And just like the videos, the girls are varied; from buxom chicks with flabby tummies, to dainty ones with perky tits. Most of the amateur models featured here are Caucasian, though there are occasionally some Asians, ebonies, and other chicks from all over the world who would be more than happy to give your raging boner a good tugging and milking. I really loved seeing the entire spectrum of stuff in this site, from the more intimate coupling to more hardcore flicks where pussies get rammed so hard, you'd think they'd split in two! Videos come in varying qualities. Given the nature of the content in this site, expect some videos with average quality. Surprisingly, though, JuicyGirlfriends serves up more videos in HD, up to a crisp and clear 1080p. This is great, considering the videos are taken by amateurs themselves. The average length of the videos is 5 minutes, though there are some that run as long as 25 minutes. You can choose to stream the clips in Flash or download them in MP4 video format. As for the photos, they come in high resolution as well, and can be downloaded and saved in ZIP files. The content you'll find here are pretty damn fine, add to that the fact that content is updated regularly, up to 3 times a week. You and your cock won't get bored here at JuicyGirlfriends, that's for sure!
Long Story Short
There's a lot of fun to be had here at JuicyGirlfriends, and one you can't afford to miss if you're a huge fan of amateur porn. The site is an excellent mix of style and attitude, bringing the latest offerings in amateur porn, highlighting first-timers getting banged behind closed doors. The demand for this sort of content is pretty much infinite, and JuicyGirlfriends no doubt made it to the top of my most highly recommended porn sites in this particular niche. It's a go-to place for enjoying juicy girlfriends with a bitchy side to them. These girls are clearly up to no good and would whip out a camera just to film themselves doing all sorts of indecent things to please their viewers. Give JuicyGirlfriends a shot and I'm sure you won't regret it!

Back to the
or check some more about Juicy Girlfriends on other good review sites!