Site Details
Intro
Do you have a thing for busty matures who know how to flaunt their stuff in front of the camera? You might want to consider checking out the crazy world of buxom porn star Trisha and her wild antics at HotMatureTrisha! I can't say she's an amateur at what she's doing since she's a really hot momma who brings her own exclusive collection of videos and photos ranging from solos to orgies. The star, of course, is Trisha herself! Trisha describes herself as a real cougar who loves to get fucked by men of all ages and sizes – sometimes even by her fellow chicks! Most of her videos have that homegrown amateur vibe to it, though most of them are in full HD. Her collection is a fine mix of hardcore and softcore content, with some medical fetish on the side. She makes sure to update her site on a regular basis so you know you'll always have something to look forward to each time you visit her site. She even offers live webcam services, free chat, dirty text messages, and escort services! What more could you ask for?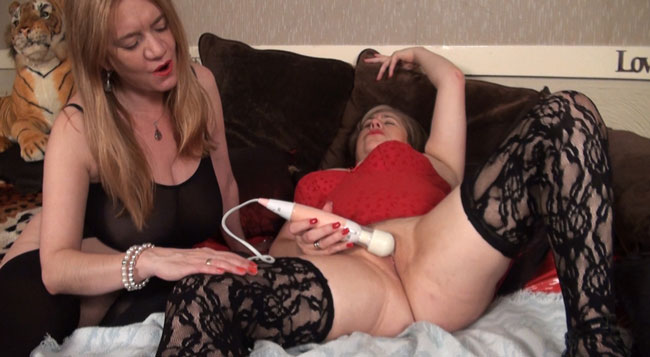 Design & Layout
I accessed the website and was immediately welcomed by Trisha who was all smiles; huge, perky tits on display. The site is filled with steamy photos of Trisha in various states of dress and undress. I noticed that content gets updated almost on a weekly basis which is always a good thing to see. The site sports a white and yellow color scheme that's visually appealing and highlights the images and textual descriptions on the site. It has an amateur-looking design but get past that and you'll see you're spoiled for choice with quality content. There's a handy menu tab at the top of the page that allows you to access various parts of the site, including Updates, Tours, Photo Reviews, Members, and even an About Me page that lets you know all the steamy details about this hot and horny momma. There's also a side menu with more videos and photos of Trisha, as well as some intriguing items to check out like Trisha's appearances in other premium porn hubs like DirtyDoctorsVideos, WetWorld, and more. At the time of writing, there are over 400 videos at HotMatureTrisha, most of which are marked as HD. You'll see index pages showing sample shots of her movies, including short write-ups and galleries taken from the movies itself. The scenes can either be displayed in date or alphabetical order. Besides these, HotMatureTrisha also comes with a little bit of upselling like Trisha phone and text chat services which, I believe, are available at premium UK phone rates. Overall, I didn't have any trouble getting around Trisha's site and the pretty standard amateurish website design didn't bother me at all. There may be limited download options in her site, but I haven't experienced any issues with it so far. The most important thing is Trisha, after all. She may be mature but her stamina is simply amazing, you can't believe she's already at a prime age! So if you're in need of some yummy British amateur MILF and cougar goodness, then you definitely can't go wrong with HotMatureTrisha!
Models & Vids
Trisha describes herself as a hot and horny MILF, also tagging herself as an amateur porn actress and model. When she's not in front of the camera, she works as a part-time escort. In short, she's an all-around slut! She's got years of experience in the porn industry, with a sizeable portfolio of steamy videos and photos that are guaranteed to have you tugging your meat for hours on end. It's quite obvious at this point that Trisha isn't your ordinary old woman. She's not afraid to try out all kinds of sexual adventures. Her specialty is giving blowjobs and swallowing loads of cum, and she just can't get enough of that thick, white jizz splattering all over her face and tits. She'll make sure a single drop isn't lanked! Trisha also loves to ride monstrous cocks and her favorite position is reverse cowgirl. She likes cumshots, too, and a little bit of fetish on the side. She's not afraid to show off the exhibitionist animal in her and when there's a camera in front of her, she'll strip right away and be as explicit as she can be! Trisha is no doubt one of the hottest and naughtiest old gal you'll ever have the honor of meeting. Her massive collection of sex videos is proof enough that this hot momma is a real sex animal! You can opt to download or stream her movies in Flash, which you can watch in full screen without any compromise to the video quality. The viewing options may be slightly limited but downloading the videos wasn't time-consuming and streaming ran okay for me. The length of the videos vary, although the average length is 5 minutes. Quality is fine overall, and most of the content are in HD, up to 1080p in resolution. Trisha's content is what I'd call high-end amateur, with scenes shot in various juicy angles, along with plenty of close-ups. Most of the videos you'll find here appear to have been shot at home, often with Trisha's friends rather than hired professionals. Trisha often invites some of her older girlfriends and boyfriends, too. There's a find mix of solo, threesome, and gang bang; with plenty of girl-to-girl action, too. If you're an avid photo collector, HotMatureTrisha also has hundreds of photo sets for you to enjoy. They're set on index pages which make navigation simple and easy. Just like the videos, you'll see Trisha engaged in some steamy solo and group sex; wearing kinky outfits and then stripping out of them as the scenes become raunchier. I like the ones where Trisha vigorously fingers her wet cunt in solo scenes; sometimes with her trusty sex toys. The photos are set out in decently sized thumbnails up to 1200x800px, most of which are clear and decent in quality. The site gives you the option to rate the photos, and you can also download and save them in ZIP files. You can also rate and leave comments on the videos.
Long Story Short
A lot gals make plenty of money in the porn industry, and I love the fact that Trisha, despite her age, is taking control of her life by doing what she loves: Stripping and getting fucked in front of the camera! Trisha made a name for herself through her very own porn site, HotMatureTrisha, and became a respectable figure in the MILF porn scene. She has a lust for hardcore sex and she's not afraid to share her sexcapades to those who share her passion. HotMatureTrisha is an amazing porn site that holds hundreds of videos and photos from one hot and horny oldie who's guaranteed to make you feel right from head to toe, especially on your nether region. You're sure to get more than a little stiff and horny once you see this old gal in action! Sign up with HotMatureTrisha today to find out for yourself!
Redeem your discount!
$16.97
instead of
$29.97

Back to the
or check some more about HotMatureTrisha on other good review sites!