Site Details
Intro
Normally, we'd think of doctors as the agents of cleanliness – people whose job is to promote good hygiene and to take care of their patients until they're back to being healthy. But at DirtyDoctorsVideos, you'll find a different group of doctors, and they'll do more than just conduct a physical examination and nurse their "patients" back to health! DirtyDoctorsVideos, as the name suggests, is a premium porn site featuring older women displaying a bunch of naughty doctors' antics in erotic sessions. That's right, these are amateur MILFs and grannies who believe it's never too late to give someone a good fuck! Being one of the oldest sites in this niche, DirtyDoctorsVideos boasts hundreds of high-quality, exclusive porn content you won't find anywhere else. There are over 40 models in their roster, many of whom are sizzling hot oldies who love to suck dicks and get fucked in the ass and pussy. These women are desperate to satiate desires of the flesh, and have no problems stripping naked in front of the camera! Enjoy dozens of hardcore action and exclusive sexcapades that can only be achieved by these horny old sluts. DirtyDoctorsVideos may not offer bonus content at the moment but they're one of the very few porn sites that offer live cam shows featuring not just MILFs but lesbians, amateurs, and more horny ladies who are willing to add a personal touch to your porn-viewing sessions.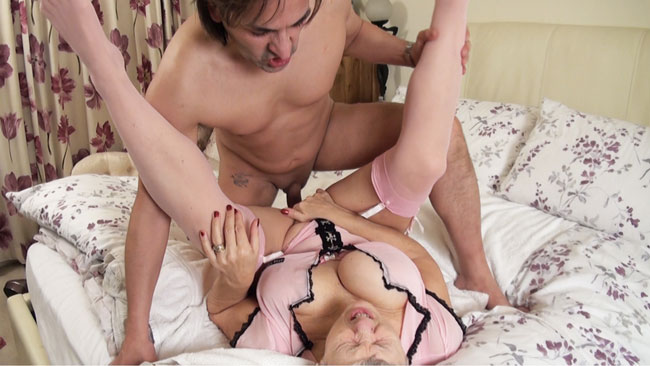 Design & Layout
DirtyDoctorsVideos is one of the more well-optimized sites in the adult entertainment scene. There's nothing much to complain about the site's design. It's simple and navigable, with that familiar look and feel that'll remind you of a tube site. It sports a visually appealing background color that allows you to see all the text and images on display without straining your eyes. Perhaps my only issue here is that there's a little bit of clutter, where they put too much stuff on the main page alone. In fact, you'll see pretty much everything from the moment you access the main page. This is probably because they aim to provide all sorts of genres to their subscribers in one go. And if you're looking for a specific type of model or scene, you can easily find it from the menu tab found at the top of the page. Here, you can see dedicated pages that feature the Top Rated, Most Viewed, Longest, and Most Discussed scenes. If you want a more specific genre like Masturbation, Blowjob, Lesbian, Interracial, or Fetish, go straight to the Categories section where all of the videos are neatly tagged and organized. If you want an element of surprise, simply head on to the Random section and let DirtyDoctorsVideos decide for you. Found a beautiful BBW? No problem! DirtyDoctorsVideos has a dedicated Models page where you can find their roster of amateur MILFs who won't just dress up or get fucked by doctors, but will also give you plenty of raunchy scenes to enjoy and jerk off to. The list is arranged in alphabetical order so you can easily find the model you have a crush on. Clicking on individual pages will show you a bit more info about your favorite chick, as well as the videos and/or photos she's starred in. If you want to send some love along the way, you can leave comments on her page, too! You're spoiled for choice with high-quality flicks to stream here at DirtyDoctorsVideos. From the main page, you'll immediately find a list of their most viewed flicks presented in clickable thumbnails. Below each thumbnail, you will find a short caption that describes the scene before you click and play. The length of the video is also displayed, as well as the number of views and its current rating (based on a 5-star rating system). Each preview also has a date stamp that'll tell you when it was added to the site, as well as an "HD" icon for scenes that are in full high definition. If you want to take a break from watching the videos and if you have a knack for live chats, DirtyDoctorsVideos also serves up live cam services where you can choose a number of models to chat with. Of course, you can also watch them perform in exclusive shows that are just for you!
Models & Vids
Big, natural tits are going to be perk up as these mature women suck and tug dicks and get rammed hard in their fleshy pussies and asses. Some of these oldies prefer to go solo by playing with themselves or with a bunch of sex toys jammed in their tight holes, while others find more enjoyment in threesomes and gang bangs. Other buxom grannies want to flash their stuff in public, while others get their sex motor running with foot fetish or with fruits and veggies stuffed in their mouths! Whatever floats your boat, trust that these horny doctors have a cure for you! The site is chock-full of wild and horny amateur models who, despite being at a prime age, have no problems posing naked in front of the camera and getting banged hard in the pussy! Some of these ladies want to get screwed by men of all ages, while others prefer to suck and lick pussies! That's right, you'll see plenty of hot dyke action here at DirtyDoctorsVideos, where buxom mommas take turns licking each other's cunts. There's a nice mix of professional and amateur models, some of which you've probably already encountered in multiple videos like Juicy Ginger, Grandma Libby, and Lacie Starr. The site also features some of their hot cock stunts, like the sexy ebony Leks Lean, the prim and proper Tony James, and of course, the fabled Dirty Doctor himself! These hot matures engage in all forms of raunchy sexcapades. My personal favorite are the lesbian flings where two or more big-busted sluts moan as they get a good licking from their girlfriend. I also like how some of the girls find erotic pleasure in fur fetish. I mean, not all people can have a mind-blowing orgasm at the sight of a nice fur coat, right?? The videos have an average playback time of 15 minutes, while some run for as long as 1 hour. The videos vary in quality, though most of them are in HD, up to a crisp and clear 1080p. Sadly, there's no option for you to download the videos since DirtyDoctorsVideos is a streaming-only porn site. So far, I haven't had any issues with streaming their videos, and I haven't encountered any buffering hiccups so you can almost immediately start your viewing sessions the moment you press Play.
Long Story Short
An apple a day keeps the doctor away –or so they say. But here at DirtyDoctorsVideos, you need more than just an apple to keep the horny doctors at bay! I don't think you'll be able to struggle for long though, because once you see these horny docs perform in bed, you'll never get enough of their raging sex drives! There's no such thing as an "age limit" for these hot mommas, and they'll do everything they can to get a taste of huge cocks and thick loads of white jizz! The site offers high-quality, exclusive porn content for your ultimate pleasure. They have a massive collection of HD porn videos where various MILFs are engaged in naughty action. The site's user-friendly layout and no-nonsense design perfectly matches their offerings; and they even offer live sex cam shows to add a more personal touch to your porn-viewing experience. Yup, they've got all your needs covered here at DirtyDoctorsVideos!mature women.

Back to the
or check some more about DirtyDoctorsVideos on other good review sites!