Site Details
Intro
Do you have a thing for cute college boys with slender waists, arms, and legs? Without a single lean muscle in their body, you could easily mistake them for girls! If your answer is yes, how about seeing them go down and dirty with not just one, but two well-hung twink boyfriends? I don't know about you but I'll definitely head on over to BoysDP for some hot and steamy gay double penetration featuring cute twinks! These boys are so gorgeously sexy, with assholes so tight you wouldn't think it'd be able to get two cocks in at once! These horny twinks are pretty hardcore if you ask me, and will never be satisfied if they don't get two in the ass. This is the reason the site is called "BoysDP" because they're willing to stretch their pinkish assholes to its limit just to get double meat – and twice the amount of thick, white jizz to slurp up! There's a lot of fervor going on at BoysDP, and I couldn't really blame the boys if the viewers swoon over them. Not only are they beautiful, they're hella' good in bed, too! They're so excited and passionate, they find pleasure at sucking, tugging, and getting ass-fucked by giant cocks. But be warned, though, because BoysDP appears to have not been updating their site for well over 5 years now. That's right, the last update was way back 2010 and there's only 10 movies in their collection so far. Yikes! This could really put off those who want a larger collection of gay porn content (I mean, who doesn't?) but there aren't a lot of sites like BoysDP that's truly dedicated to this specific niche. What's more, all of the videos are in crystal-clear HD, allowing you to see every bit of detail. If you're one of the patient folks who still have hope that this site will still get updated in the near future, then I wouldn't stop you from signing up at all. Besides, being a member of BoysDP gives you a number of cool freebies, like instant access to over 600 high-quality gay porn related DVDs, as well as free membership to 4 bonus sites, including BoysFingering and BangedBoys. That's enough to tempt you, right?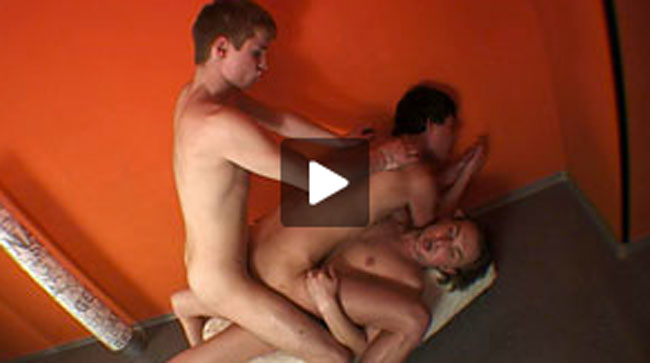 Design & Layout
BoysDP has a simple and navigable website that's easy to get around with from the moment you become a member. The site dons a visually pleasing red décor that veers away from the usual blacks and whites. This serves to calm down the nerves and somehow stirs a feeling of heated passion from the boys. There's no menu tab to speak of, and the videos are neatly lined up from the moment you access the site. They're presented as previews displaying 5 thumbnails that appear to have been taken from the movies. At the lower right side of the thumbnails, you'll find two arrow buttons that read "View Trailer" and "Watch the Movie". Clicking on the former will prompt you to download a short WMV file showcasing a teaser of the movie. If you think this is a bit of a hassle and want to go straight to the full-length version, click on the "Watch the Movie" button at once, which will direct you to the movie and the photo set that comes with it. They've done a good job at teasing the viewers but personally, the site appears a little congested, despite the absence of annoying ads. Each preview comes with a lengthy caption, which is good because you get to know what's going on in each movie before you even click and play, but I think they could've done better if they shortened it a bit. On the upside, I understood why they found the need to do so because they wanted to reign in a wider range of desires as much as possible. The site allows viewers to stream or download content, via PC or through mobile devices. Loading speed is a bit slower than expected, but it won't really affect the overall viewing experience that much. And although there's no search features to help navigation, it's really easy to find your way around the site. After all, there are only 10 videos for you to enjoy. Another thing that I'd like to address is the lack of model's index which I think is already an industry-standard these days. There may not be a lot of models here at BoysDP but I wish they could've added a bit more personality to the site and gave stage names to their models to help viewers form a bond with their personal faves.
Guys & Vids
There are no girls – not even a single hairy, well-muscled dude – here at BoysDP. The site stays true to its promise in delivering nothing but gay DP goodness featuring cute, feminine-looking dudes. Each video features twinks engaged in a threesome, with two fuck buddies climbing on their slutty twink and pounding his butthole raw and hard with their thick, veiny dicks. It really takes a special kind of cutie to want two lads in his ass, and that's exactly what BoysDP aims to deliver. Each of the boys in this site is more than happy to offer up his tight behind as a sacrifice for his two horny boyfriends who are drooling over him, desperate to ram their cocks inside his ass. The slutty twink will not stop until his buddies are satisfied and will let out thick piles of cum he'll surely enjoy to his heart's delight! Expect loads of steamy banging and sucking here at BoysDP. You'll definitely love the sight of these well-hung twinks pushing their dicks in one tight hole, and swallowing cum with such eagerness. Despite the obvious lack of content, each video is simply breathtaking and will have you whip out your dong and tugging it non-stop. Just imagine how it feels to be squeezed in that super-tight orifice, with two dicks competing and poking that juicy male G-spot. If only other sites have content as good as the XXX goodness you'll find here at BoysDP, I wouldn't have to leave this site at all! All of the videos are available in different viewing quality options, the highest being a full 1080p HD! The videos are presented in WMV format, with the option to stream or download them. Each of the scenes have an average length of 25 minutes, although some are longer. If you love photos, then you should definitely indulge yourself in digital still pleasure with the photo sets that come with each of the flicks. Each of the set contains an average of 200 photos featuring the models and the various scenes they're partaking in. The shots are taken in various places, from well-lit bedrooms to kitchens.
Long Story Short
With two cocks jammed deep into a slutty twink's ass, the scene instantly becomes twice as hot and heavy. That's exactly what's going on here at BoysDP, and I love every bit of it! My only major disappointment to what could've been a great gay porn site is the fact that there aren't a lot of videos and photos to enjoy and jerk off to. Yes, they offer a bunch of bonus sites but it seems like these sites don't get updated often, as well. It might be a complete waste of time for other people, unless they're patient enough to wait for the folks behind BoysDP to start updating again. Besides the bonus sites, there are also some extra gay porn DVDs on offer here, which you can opt to stream or download for free. Most of them may be non-exclusive but with hundreds of bonus content for you to peruse, BoysDP might be worth checking out, after all.

Back to the