Site Details
Intro
Looking for some high-end porn site that caters to your love for juicy MILF porn? Then look no more than hot British mature porn actress, Trisha, and her raunchy sex sessions at AuntieTrisha! You're sure to fall in love at first sight with this buxom, 50-something mature from the UK, who loves to do naughty stuff and teach her nieces and nephews a thing or two about pleasing men and women of all ages. Normally, some of us would think an auntie is someone who's straitlaced, prim and proper. Other people's aunties can be quite down-to-earth and fun. But Trisha is an entirely unique kind of auntie who will do more than just flash her tits and pussy for your ultimate pleasure. This old gal has the energy of a 20-something chick; finding pleasure by getting herself into wild sexual adventures. I could even argue that she's far more adventurous than the girls half her age; proudly showing off her juicy rack and fleshy pussy. The star of AuntieTrisha is the same old chick who's already appeared in several other niche porn sites like DirtyDoctorsVideos and HotMatureTrisha. She does a lot of rowdy things in this site too but at AuntieTrisha, you'll find a whole other persona once she dons her wig and puts on her kinky costume. The site offers plenty of steamy exclusive content featuring Trisha doing all sorts of nasty. Sometimes, you'll even see her heating it up with some of her mature girl pals in a sexy threesome. Yup, this aunt loves both cocks and cunts, and she'll do everything to get a taste of them to satisfy her sexual cravings. AuntTrisha gets updated on a regular basis, adding at least 2 fresh content in the collection every week. As if the hundreds of content in the site aren't enough, you'll always be treated to more and more new videos and photos every week. And hey, the fun doesn't stop there because once you become a member of AuntTrisha, you'll also have instant access to a number of bonus sites that feature more MILF porn goodness – starring Trisha, of course! This includes HotMatureTrisha, DirtyDoctorsVideos, and TrishasFriends. That's more than enough to make your dick satisfied, don't you think?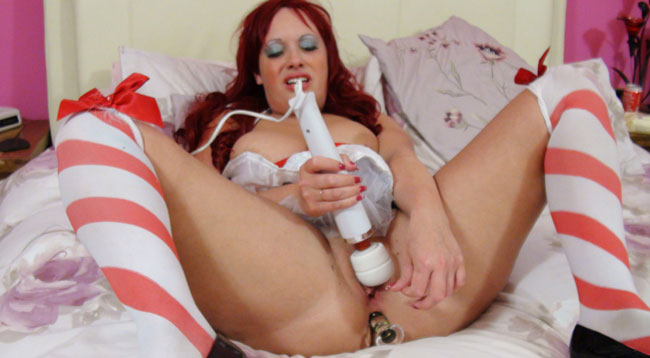 Design & Layout
AuntieTrisha has a nice and simple website design that gives off an amateur vibe to it. This, however, wasn't an issue for me because it stays true to the nature of content on offer. The site is draped in whites and pastel pinks, giving off a playful and feminine look and feel. For the most part, navigating the site was smooth-sailing, especially when it comes with a handy menu tab that lets you access other parts of the site, with just a single click. The menu tab is found at the very top of the homepage, with individual sections for the contact page, photo reviews, Trisha's About Me page, tours, updates, and more. Scrolling down the page was quite a treat since the site features a number of different wallpapers of Trisha in all sorts of sexy lingerie. Some of the wallpapers even see her exposing her juicy tits and pussy as she unrolls her stockings! She also left a sweet personal message that gives you plenty of idea what type of action you should look forward to in her site. And from the landing page alone, you'll immediately find some of the latest content updates, some of which come with short clips. The thumbnails are perfectly sized, with a pale pink border around them that highlights the scenes with hot grannies in action. Each preview comes with a short description that lets you know what a scene is all about before you even click and play. You'll also see a date stamp so you can know when it was added to the site. Scroll further down and you'll find some more juicy pics of Trisha in all manners of dress and undress. At the right-hand of the screen, you'll find a list of bonus sites you have access to. Clicking on them will direct you to the actual site, which is pretty convenient.
Models & Vids
At the time of writing, there are over 200 videos and more than 100 photo galleries in AuntieTrisha's archives. The type of content you'll find here isn't your typical sexy and arousing softcore kind of porn. There's plenty of hardcore action going on, too – often featuring lesbian sex with other mature women. Of course, you'll occasionally find Trisha posing in her sexy lingerie with pantyhose and garters but in most flicks, you'll see her completely naked; often teasing you as she pours thick goo all over her tits and pussy. Besides these, she also loves to have sex with men of all ages and sizes. Sometimes, you'll see her hitting it in orgies and interracial hookups. Trisha also has a thing for fetish and a little bit of role-play. Seriously, there's nothing this auntie can't do! Besides Trisha, the site also has a couple of other amateur models, all of whom are her close chums. For example, there's Savana and her trusty maid, Fifi, who both seem to share the same interests as our special host. They love to get licked and fingered by Trisha, and Trisha enjoys pleasuring them until they finally squirt! Most of the content are real and raw lesbian sessions with plenty of hardcore action. There's also a number of masturbation scenes distributed among the collection. It's worth noting that everything you'll see here are exclusive, which means you won't find them elsewhere – even on the bonus sites that feature Trisha. Not all of the content are in HD, though most of them are certainly high in quality. The videos are available for streaming in the built-in Flash player, and can also be downloaded and saved in MP4 video format. The best quality versions display up to a stunning 1080p. As for the photos, you can view them online through slideshows, though there's currently no option to download them in ZIP files. They're decently sized stills, displaying at 2400×1600 at best.
Long Story Short
She doesn't just stick to a single genre; she loves to explore all sorts of raunchy stuff to make her viewers happy and satisfied. She's a really busy lady, and would never stop until her sexual cravings are met. As the site gets updated every week, expect it to grow at an exponential rate in the months to come. You're spoiled for choice with a whole lot more juicy content from the bonus sites it offers, so you have a pretty huge collection of videos and photos to keep you busy for the rest of your live. So if I were you, I'd sign up and join AuntieTrisha today, and not miss out on any of the wild and wet fun!

Back to the
or check some more about Auntie Trisha on other good review sites!